Chris
Hello. My name is Chris, and I am a preschool teacher in Berkeley, CA. I started doing puppet shows as part of my classroom curriculum about three years ago. I quickly fell in love with the open-ended nature of puppetry! It engages and connects people with simple truths. While it sparked my student's imaginations, it also sparked mine. I began spending my free time dreaming up new worlds, characters, and stories.
Ms. Alayna
Hello! My name is Ms. Alayna and I have been working with kids and puppets for many years. I am also an elementary school teacher in San Francisco. Before joining Ricky Roo, I created educational programming in New York City. I refer to myself as an "Edutainer," a combination of educator and entertainer. I love to tell stories, sing songs and bring the puppets to life!
Here's a little taste of what we do.
Here Are Some Reviews of the True Experts, The Children!
"Wildly entertaining from our youngest preschooler to our oldest teacher."
Chris brought his puppeteering into our preschool program two years ago and transformed the way we've played with puppets ever since. He has an amazing way to play and interact with children and the stories are just fun. Trust me, the puppet show will be an absolute hit for your event!
Candace Martinez,
Director of Mustard Seed Preschool
7 Reasons to Invite Ricky Roo & friends to your next party
# 1 - FULLY ENGAGING KIDDOS
These silly and colorful puppet friends will keep your child and their friends fully engaged. In short, you'll get to take a little break, relax with the other parents, and enjoy watching your kids have fun.
# 2 - PROFESSIONAL PUPPETRY
I might make my living being silly, but I am still punctual, reliable, helpful, and easy to work with—and very modest. I make myself available to answer questions leading up to your event so you can feel 100% confident that your party will go off without a hitch. Also, I am licensed & insured to ensure everyone's safety.
# 3 - SPECIAL BIRTHDAY ATTENTION
I'm always happy to alter storylines and character names to make birthday girls and boys (and siblings) feel extra special on their big day.
# 4 - HILARITY WILL ENSUE!
I am an expert at crafting clean, age-appropriate humor for children ages 2-99.
# 5 - EDUCATIONAL
My puppet shows aren't just entertaining; they're also chock full of experiential learning! It's true! Don't tell your kids, but while they're laughing at the ridiculous things Ricky Roo and his pals say and do, they'll also be learning about the beauty of sharing, being kind and treating everyone with respect.
# 6 - YOU-NIQUE SHOWS
Every booking begins with a conversation where we discuss the unique details of your party and how my show can best accommodate them.
# 7 - EXPERIENCE
I used to be a preschool teacher for many years and have been working with children for over a decade. Big groups and small. Noisy and shy. I love kids. I love puppets. Let's do this.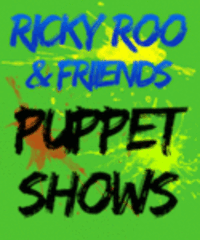 Chris Rachowicz
​
​
​
Bay Area, California
Request a Date ASAP to make sure your event time spot is still open! The first step to make sure YOU get this hilarious puppet show for your special event!